Tranquil scenes at Pinnaroo Valley ahead of Mr Martin's funeral
There are tranquil scenes at the picturesque Pinnaroo Valley Memorial Park, where the funeral of Nick Martin is due to start about 12.15pm.
Parking spots have been allocated for the service indicated by signage for 'Nickolas' for bikes and cars.
Kangaroos are lazing under trees nearby.
Tranquil scenes at Pinnaroo cemetery where slain Rebels boss Nick Martin will be laid to rest.Credit:Sharon Smith
Dozens of eskies, presumably with refreshments, have been carried into the area which offers seating for around 300 people under a white tarpaulin.
A red carpet has been rolled out in the middle of the tent.
1.14pm
Patched Rebels arrive at funeral home
Patched Rebels members and family, including Nick Martin's stepdaughter Stacey Schoppe, have begun to arrive at the funeral home ahead of the procession to Pinnaroo Memorial Park this morning.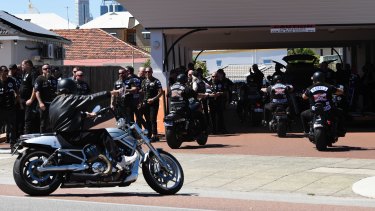 Video of Rebels Bike Boss Nick Martin's Funeral Click Here.
Location: AustraliaClub:Rebels MCUrl:https://www.theage.com.au/national/western-australia/hundreds-of-bikies-ride-across-perth-to-farewell-rebels-boss-nick-martin-20201222-p56pnt.htmlWriter:Marta Pascual JuanolaSource: .theage.com.au